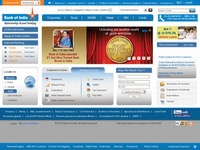 Bank of India Interest Rates
Bank of India or abbreviated BOI is a major state owned bank in India with shares listed on the National Stock Exchange of India (NSE) and on the Bombay Stock Exchange (BSE). It was founded in 1906 and as at 2011 had 3752 bank branches spread out over India.
It offers its customers various deposit and savings products including recurring deposit schemes, tax saving depost schemes, savings accounts, , NRI deposit accounts, salary accounts, fixed deposit accounts, short deposit accounts and Income Certificates.
Source: http://www.bankofindia.com
| Company | Account Name | Currency | Update | APY | Savings Account Details |
| --- | --- | --- | --- | --- | --- |
| | Bank of India Savings Account | INR | Aug, 2013 | 4.0% | The rate is applicable to the BOI savings account prduct which has a free Internet Banking facility with free funds transfer through internet banking. It has unlimited Internet & ATM transactions however you will be charged Rs.20/- per month if you do not maintain the minimum balance per month. To open this account Initial deposit requires a minimum of Rs. 100 for non cheque book accounts and Rs. 500 for cheque book operated accounts. |
| Company | Account Name | Term | Currency | Update | APY | Fixed Deposit Account Details |
| --- | --- | --- | --- | --- | --- | --- |
| | Bank of India 1 Year Term Deposit | 1 year | INR | Nov, 2013 | 9.00% | - The rate applies for a period of 1 Year for Domestic Rupee Term Deposits deposits for Rs.100 Cr & above |